Membership
Participating in the life of the Washington New Church
Anyone is welcome to participate in the life of the Washington New Church by joining us and/or getting involved with one or more of our ministries (uses). Adults who have been baptized into the New Church are invited to join the church as members. Members of the Washington New Church are able to vote at congregational meetings and are eligible to hold elected offices in the congregation.
How to become a member of the Washington New Church
If you are at least 20 years old, were baptized into the New Church as a child or as an adult, live within the greater Washington area* and have become a member of the General Church of the New Jerusalem, you may become a member of the Washington New Church by signing the membership book or by completing a registration form and mailing it to the Pastor's office 11914 Chantilly Lane, Mitchellville, MD 20721.
* Members must live within a 50 mile radius of the Washington New Church.
Baptism and Confirmation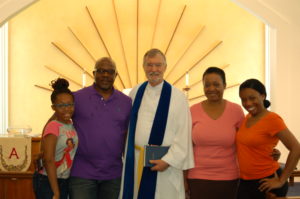 A person may be baptized into the New Church at any time in life, from infancy to old age.  We do not believe total immersion in water is necessary, but we do use water to represent the cleansing power of the truth in our lives.  And because it is the new truth of the New Christian Church that we represent in our baptisms, even when a person has been baptized in another Christian church we believe it is important to receive a new baptism when the powerful new teachings about the Lord, His Word and the spiritual life begin to be understood.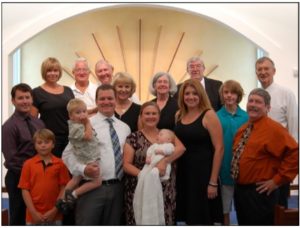 In the case of children the commitments of baptism are made on their behalf by their parents, who then pledge to teach and lead them according to these teachings.  Then, when the children become adults (around their 20th year) they are invited to be confirmed in the faith, accepting it as their own.  Confirmations may be done privately or in a public service.  Note however that confirmation is not required for membership, the assumption being that having been raised in the faith an application for membership affirms that commitment.
Reasons to Join the "General Church"
As noted above, this is required for membership in the Washington New Church congregation.  This is because we are part of an international body that is governed in general by principles and by leadership that guide our congregational life, and so we ask people to sign up first for the over-arching organization, and then for the local embodiment of it.  This means a person can be a member even if he or she lives apart from any given congregation, and it also facilitates transfers of membership from one congregation to another throughout the New Church world.
Further, as a member of the General Church a person may be eligible to serve on its boards and committees, and thus exercise some real influence on that whole New Church world.
__________