Testimonials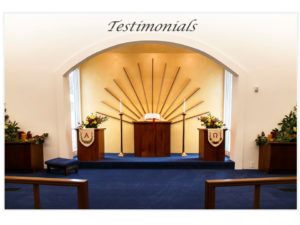 The Washington New Church:
"We were introduced to the Washington New Church when our youngest son was about to go to middle school and we pulled him out of the public schools to attend the Church School.  As we continued to learn more about the school it was only natural that we attend the church services.  Having been raised in a Baptist church, we found the teachings of the New Church to align closely with many of the Baptist teachings.
As our son continued to grow in the school, so did our involvement with the church.  We love the small congregation and the ability to interact with both the pastor and assistant pastor.  Spiritual support was always there when needed." ~ C. Moore and Family, Glendale, MD.
"Having been interested in the spiritual disciplines for years I was surprised to find most of them in the New Church's Liturgy (Order of Worship).  This was truly different from all my previous church experiences.

Beyond this, the wonderful, marvelous and extraordinary WRITINGS of Emmanuel Swedenborg focused on things celestial and things spiritual.  This aroused my curiosity, wonder, surprise, amazement and astonishment, even to perplexity and awe.

Regarding amazement and astonishment, I experienced the momentary overwhelming and awakening of my mind by that which is beyond expectation and to unthought-of truth.
Regarding perplexity, there was the drawing or turning of my thoughts toward contradictory conclusions, which were eventually cleared up.
And regarding awe, my mind was lifted to things supremely grand, formidable in power, beyond the ordinary, absolutely filling my mind, heart and soul, beyond expectation to reverent worship of our Lord and Savior Jesus Christ.

My constant prayer was truly answered: "Lord, help me so to know thee, that I may truly love thee, so to love thee that I may fully serve thee, whom to serve is perfect freedom.""

~ Rev. Dr. Bernita Babb
"When I moved to the D.C. area over 30 years ago, I was just biding time until I could move back home to Pennsylvania. But one day a few years in, I realized that here felt more like home than there. That is largely due to the Washington New Church community that welcomed me. The doctrines are reassuring and make sense, and the people have become dear to me. Though I still miss the people and the church I left in PA, I'm firmly and happily planted here."  ~ Amanda
"My family has moved around quite a bit over the years but nearly 30 years ago we settled down in the Washington Metro area and made a more permanent home here.  Upon arriving in the area I  was immediately able to become involved in the uses of both the church and the school – having all of my children attend the affiliated school.
Through all the ups and downs of raising a family and working on my marriage I have found the spiritual insights and the supportive love of the church community to be my anchor.  ~ Bonnie
The Washington New Church School:
"I always look forward to my parent-teacher conferences with the staff at WNCS, because the teachers are so invested in the success of my kids and I feel like we're on the same team. They all care a lot about my kids, and I appreciate the teachers' wise thoughts about how to bring out the best in them. It's great to work with such experienced, grounded Christian teachers and mentors who play such an influential role in my kids' lives." Lincoln Smith  [note: to view more testimonials for the Washington New Church School click on our school website