"He is risen as He said"
From
March 27, 2021
From the Pastor
The whole of the Lord's life in the world from earliest childhood consisted in constant temptation and constant victory. The last was when on the Cross He prayed for His enemies, and so for all people in the whole world. (Secrets of Heaven 1690:1)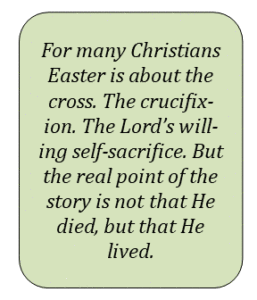 We begin the month of April celebrating Easter. For many Christians, Easter is about the cross. The crucifixion. The Lord's willing self-sacrifice. But the real point of the story is not that He died, but that He lived. In fact, the entire Gospel narrative would be unnecessary if the only reason Jesus was born was to die. The good news told in the New Testament is not merely that the Lord died on the cross for you, but that He lived His entire life on earth in constant struggle. For you.
And He fought those struggles from a human perspective. Because He was divine as to His soul, He was able to decisively win every single spiritual conflict. But the humanity He inherited by being born of a human mother on earth meant that He went into these temptations without any certainty of their outcome. That is the very nature of spiritual temptation: without doubt–and even despair–about the end, it isn't really a temptation at all.
And He faced these doubts, over and over again, continually from earliest childhood. While He was healing the sick, He was battling doubt. While He was feeding the hungry, He was fighting off despair about the future. While He was teaching people, He was under attack in His own mind. And while He was being secretly plotted against and openly challenged by naysayers, He was struggling to keep moving forward with a plan He was not sure would succeed.
An omnipotent being surely never needs to suffer. But He chose to take on a form that would expose Him to attack, because He loves us. And He won. Not just the final battle, but every battle.
That's what we celebrate when we celebrate Easter. The Lord took on battle after battle for our sake, and He won every one of them. So we can be free to choose His kingdom.
This year, like last, will be an Easter during a pandemic. So things will again be a little different. We will have an online-only service for Good Friday (April 2nd, at 7 p.m. at youtube.com/c/WashingtonNewChurch), during which you are invited to participate in Holy Supper from your homes. Then on Easter Sunday we will have an in-person worship gathering (also available live on our YouTube channel) at the church at our usual 11 a.m. time. We welcome offerings of flowers, but this year for health and safety reasons we will not have a processing; instead, you are invited to bring your plant offering to the front of the church yourself when you first arrive.
But whether you join us in person this year or choose to worship from your homes, I hope you all have a beautiful Easter celebration, full of appreciation and gratitude for the Lord's love.
Rev. Glenn "Mac" Frazier
Pastor, Washington New Church
---