For New Parents
Getting Acquainted
Welcome!  We hope you find what you are looking for here – and in person when you come to visit us.
We are – at present – a very small but highly academic elementary-high school serving students from junior kindergarten through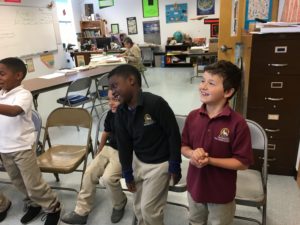 grade 10.  Our teachers serve an average of 7 – 10 students in a classroom, so all get personal attention and encouragement to do their best.  Our small classes also provide for a great family atmosphere in which young and old mix together at play times and older kids typically support the younger ones.
We are a distinctly Christian school.  Each day begins with a chapel service or home room worship, and all the classes are infused with spiritual concepts and applications.  You can learn more about this in the religious orientation page and in the interview that all new applicants have with the church pastor.
We are "tucked away" in a beautiful residential community with ready access to playing fields and forest trails, yet we are close to major highways providing easy access from all around the eastern beltway.
As you will see in the list below, you are invited to come and get some detailed literature and/or take a tour of the school almost any time.  You can also attend an opening chapel service any Monday or Friday at 8:20 am, or Sunday worship at 11:00 am to get a feeling for our spiritual practices.
We look forward to meeting you in person.
Useful Links to More Information