Coming Soon: A New Pastor
March, 2019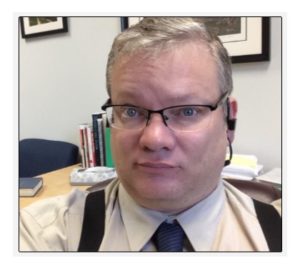 We are pleased to announce the unanimous affirmation of the Rev. Glenn (Mac) Frazier [photo] by our church members as the new senior pastor for the Washington New Church.
"Mac" will move to Maryland from his present home near Chicago, Illinois,and take up his duties in the first week of July.  He comes from a broad range of experience including life-long membership in the New Church and an initial career in website development.  After training for the ministry and ordination in 2006 he served for two years as an assistant pastor in Pittsburgh, PA, and then became the founding pastor of a brand new congregation in Austin, Texas, where he conducted an innovative ministry for 6 years serving many who were brand new to the New Church.
Then, responding to other needs in one of our established congregations near Chicago, he served again as an assistant pastor for 2 years until being called to the Washington New Church.  Mac is 49 years old, married with 4 children, and continues to have a special interest in reaching new people with the healing message of the New Church.
Meanwhile, Mike, our current pastor, plans to stay with the congregation in his retirement and help out as needed.  He could be available for occasional preaching, teaching, visiting or counseling, under the guidance of the new head pastor, and he may get involved with marketing or even church maintenance.  In any case, he has no plans to disappear except for short vacations, and he welcomes your inquiries!
As for Rev. Smith, he will continue as school principal and preach occasionally, and Rev. Ferrell will continue to be available in his retirement as his schedule permits.